Tesla reported its latest earnings, beating on both earnings and revenue. CEO Elon Musk said the company might be able to produce 2 million cars this year. Investors love the good news, and Tesla stocks went up over 30% in the past 1 week. However, compared to its all-time high just about a year ago, the stock is still down about 60%. Why Tesla drop?
With the recent news of Tesla's slowing sales growth and the company slashing prices by as much as 20%, some investors are worried that Tesla's moat is weakening.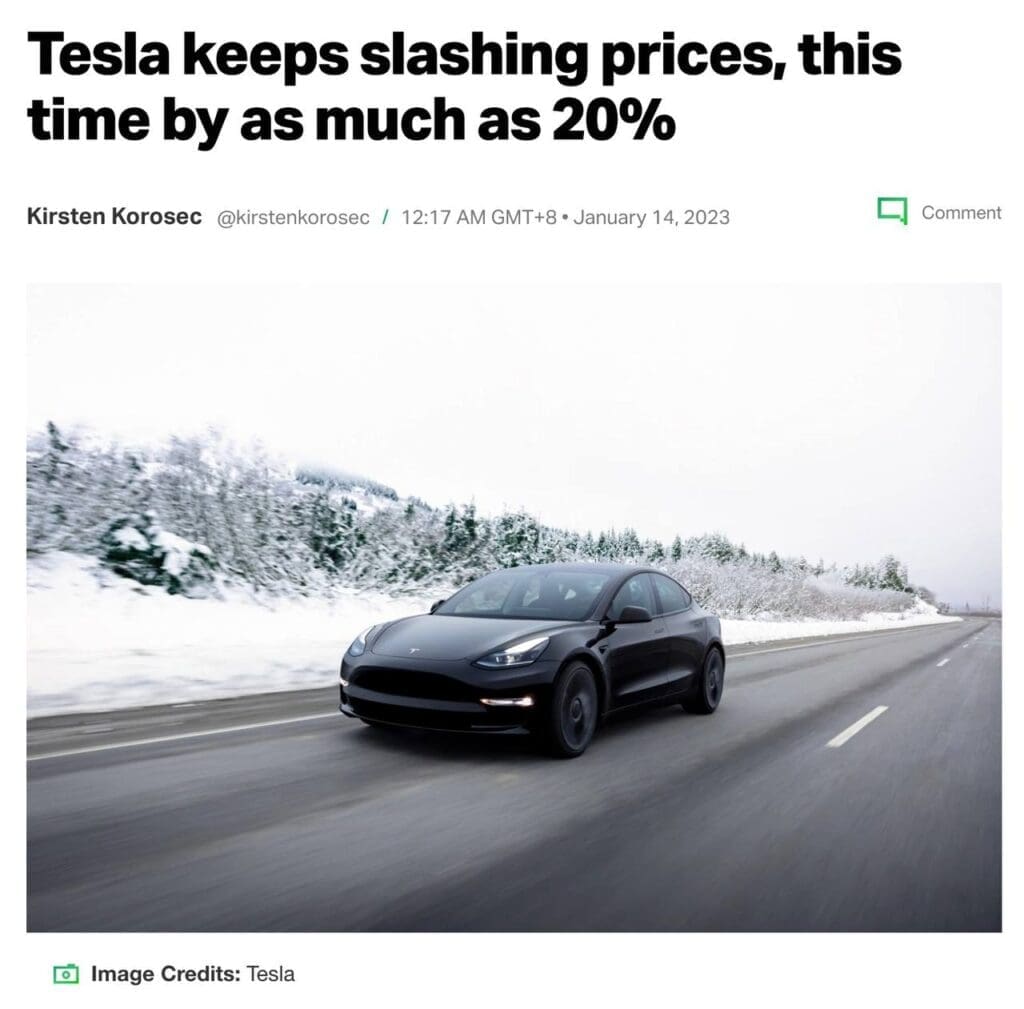 So is Tesla a company you can still invest in? Can this current share price present a great investment opportunity? In this post, let's dive deep into Tesla to find out more!
Why Tesla Drop Car Prices By 20%?
This month, Tesla announced it cut prices for U.S. buyers by as much as 20%. The Model Y starting price now is around $53,000, down from about $66,000. 🤯🤯
This is at least the fourth time Tesla has discounted its vehicles. The price reduction trend kicked off in October last year when Tesla announced price cuts in China up to 9% on the Model 3 and Model Y. Earlier this month, Tesla reduced prices for Chinese buyers again, this time by nearly 14%.
With such aggressive price cutting due to the competitive EV industry, many investors worry about its direct impact on Tesla's profitability and margin. However, if you look closely into Tesla's competitors' margins, such a move may just be what Tesla needs to squeeze its competitors dry.
Currently, Tesla has a Gross Margin of 25% and a Net Margin of close to 15%. This is significantly higher compared to its competitors like Ford or GM, with a Gross Margin of 12-15% and a Net Margin of a low single digit.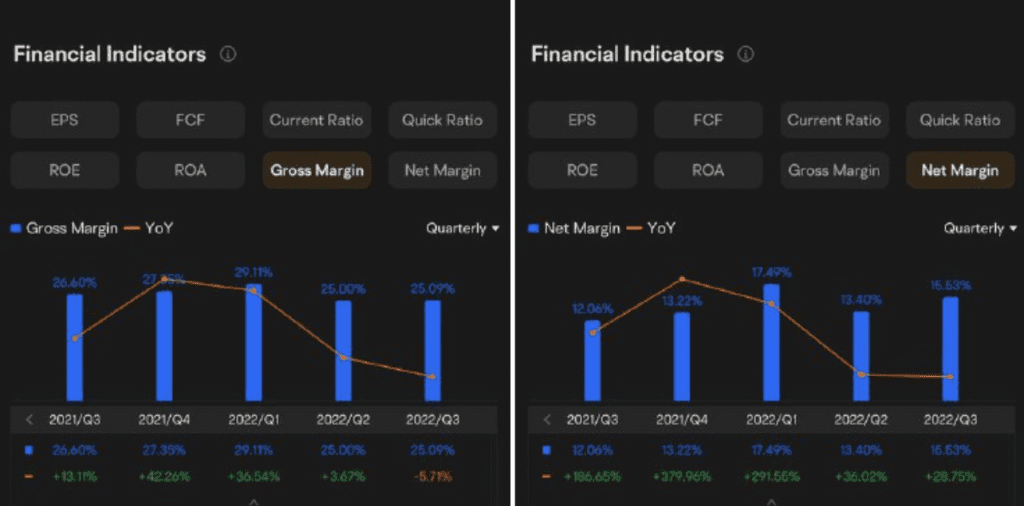 Why Tesla Drop In Margin and it's ok?
he reason why Tesla is able to enjoy a much more lucrative margin is because of its economies of scale and its vertical integration of production. Tesla designs and produces its own battery cells and electric motors, which allows it to control costs and improve efficiency.
Additionally, Tesla has invested in automation and robotics in its Gigafactories, which has increased productivity and reduced labor costs. Finally, Tesla's sales and distribution model, which relies mostly on online sales and company-owned stores, also helps to keep costs low.
With a much thicker margin compared to its competitors, Tesla is likely to be able to afford price cutting without a huge impact on its bottom line, while directly squeezing its competitors' profitability.
Cutting prices is also the move that Elon Musk has been advocating so that Tesla can help to increase market share, make the company's product more accessible to a broader range of customers and increase sales volume.
Why Tesla Drop – Risk of Tesla
However, it's not always a bed of roses for Tesla. It involves more risks than most investors think, including
1. Production and delivery risks: Tesla's production and delivery of its vehicles could be negatively impacted by any number of factors, such as supply chain disruptions, quality control issues, or production delays.
But despite the challenges, Tesla still had a stunning quarter.
In Q4 last year, Tesla produced over 439,000 vehicles and delivered over 405,000 vehicles. In 2022, vehicle deliveries grew 40% YoY to 1.31 million while production grew 47% YoY to 1.37 million. Though the sales growth is slowing, the growth rate is still pretty impressive.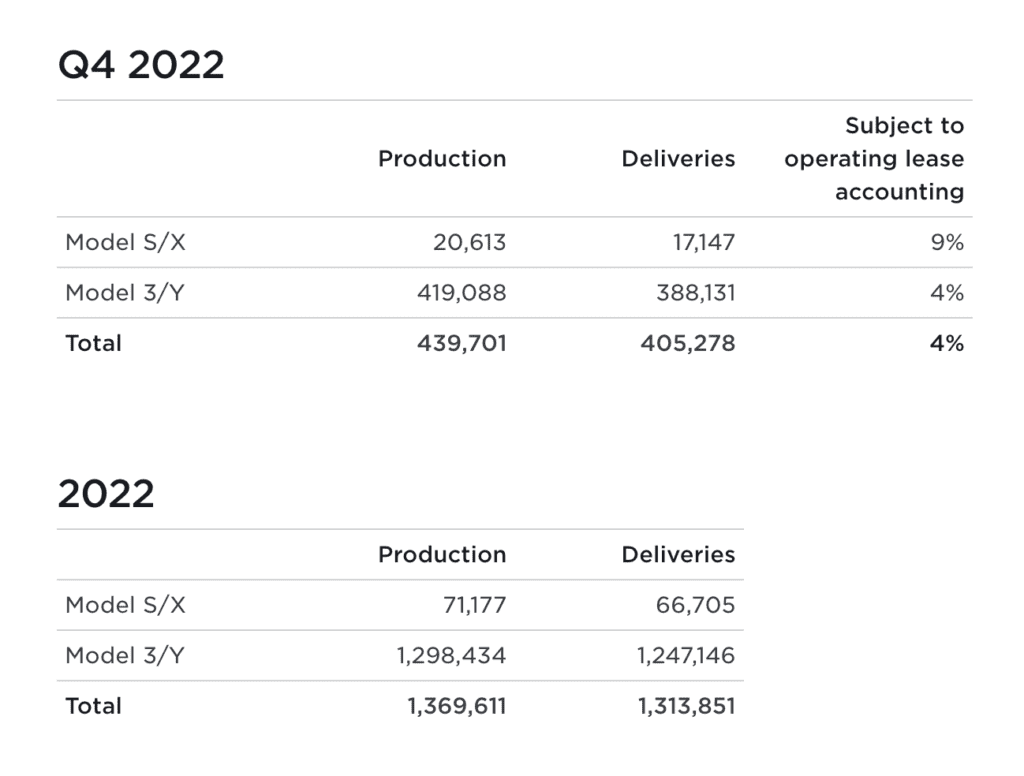 2. Regulatory and policy risks: Changes in government regulations and policies, such as changes in EV incentives, could also have an impact on Tesla's business. Electric vehicles could remain a niche segment if mass-market consumers don't adopt the new powertrain technology due to higher costs and worse function (range, recharge time, and availability of charging).
3. Competition risks: The EV market is becoming increasingly competitive, with established automakers and new entrants alike investing in the development of electric vehicles. This could pose a threat to Tesla's market share and profitability. Tesla's market share in the EV market has gradually decreased to about 60% in the past two years.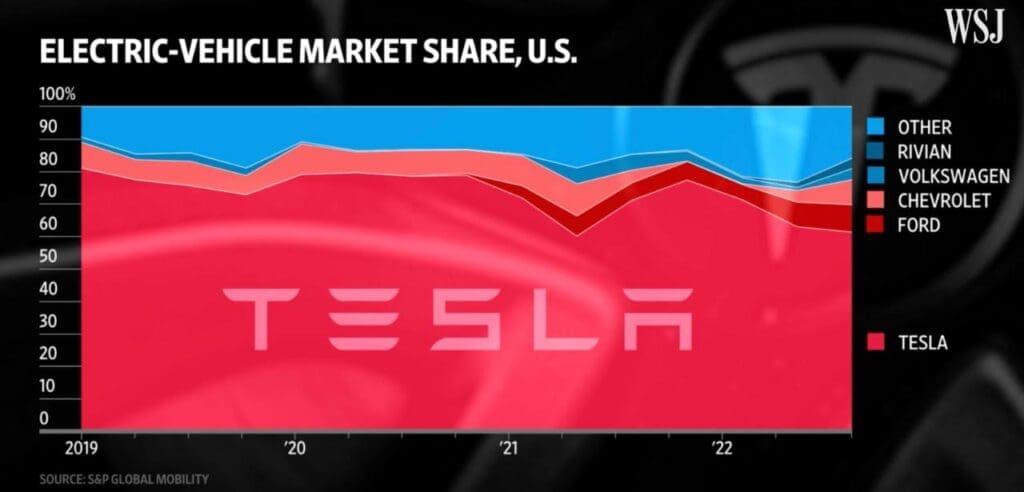 4. Financial Risks: Tesla operates in a capital-intensive industry and in order to maintain its technological advantage, it needs to invest heavily in R&D.
Tesla has consistently been investing around 6-8% of its revenue in research and development. In 2020, the company reported spending $1.1 billion on R&D, which represented 6.5% of its revenue. In 2019, the company reported spending $1.2 billion on R&D, which represented 8.2% of its revenue.
However, all these investments may not bear fruits, which could dilute the value of existing shares or increase the company's debt.
Fortunately, with a healthy balance sheet and cash exceeding total debt, Tesla should be able to easily meet its financial obligations.
5. Dependence on key personnel Elon Musk: Elon has been a highly controversial leader. Its extreme publicity is a double-edged sword for Tesla. His recent purchase of Twitter also caused him to sell off over $22 billion of Tesla shares, which further dampened investors' confidence in the company. Just in about two years, Elon has off-loaded about $40 billion of Tesla shares.
Investors are also concerned about Elon's ability to juggle between so many businesses, from Tesla, SpaceX, the Boring Company, Neuralink to now Twitter. The loss of this key personnel could also have a material adverse effect on Tesla.
Why Tesla Drop – High Valuation
Although Tesla's stock price has fallen over 60% from its peak, the stock price is still not giving investors a lot of margin of safety for entry.
Based on the current PE ratio of 50, the stock is still considered overvalued given the uncertain nature of the EV future.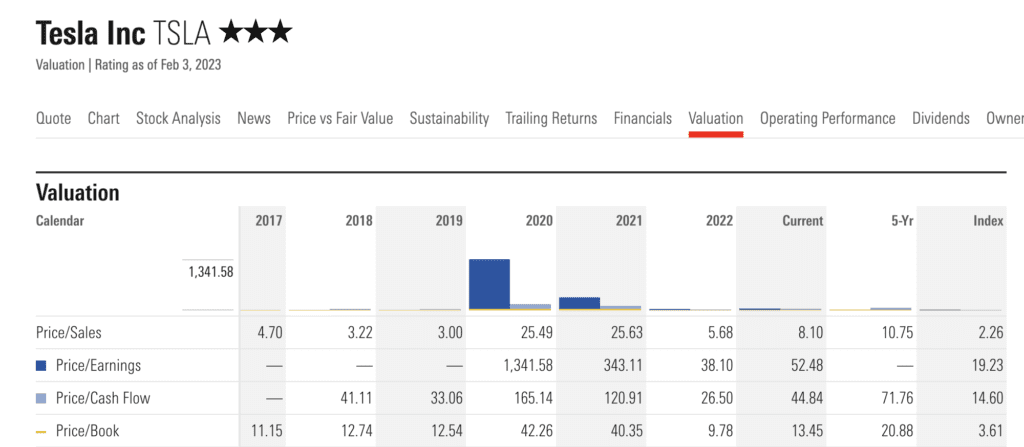 However, investors who believe in the future of Tesla see the tumbling stock price as an opportunity for entry. They have spent more money on Tesla shares in the past six months than in the five years prior. And according to Vanda Research, on Jan.10 this year, one-day net purchases of Tesla shares hit a record high of $316 million.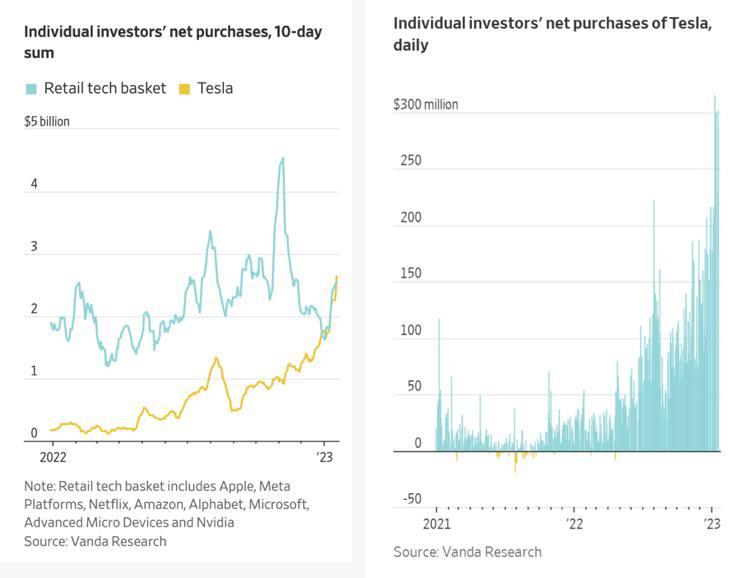 So what's your take on Tesla? Is this a bull or bear for you? Comment down below and let me know your thoughts!
I truly believe that by understanding what you are investing in and having the right skill set, everyone can become a great investor. In this brand new year, if you want to get started learning investing and how to use options to accelerate your return on stocks like Tesla, do join us in our upcoming free 2-hour Next Level Options Masterclass. Just click here to register for your free spot!
I created a video to share with you my Tesla deep dive analysis too. Enjoy your learning!
Also, if you want to know are Amazon stocks good or bad to buy? Check out my blog post on Amazon. Meanwhile, follow my Telegram for more investing insights! Happy investing!