Warren Buffett slashed his holding of Taiwan Semiconductor Manufacturing Co (TSM) by as much as 86%, just months after disclosing a $4 billion stake. Why did Warren Buffett sell TSMC?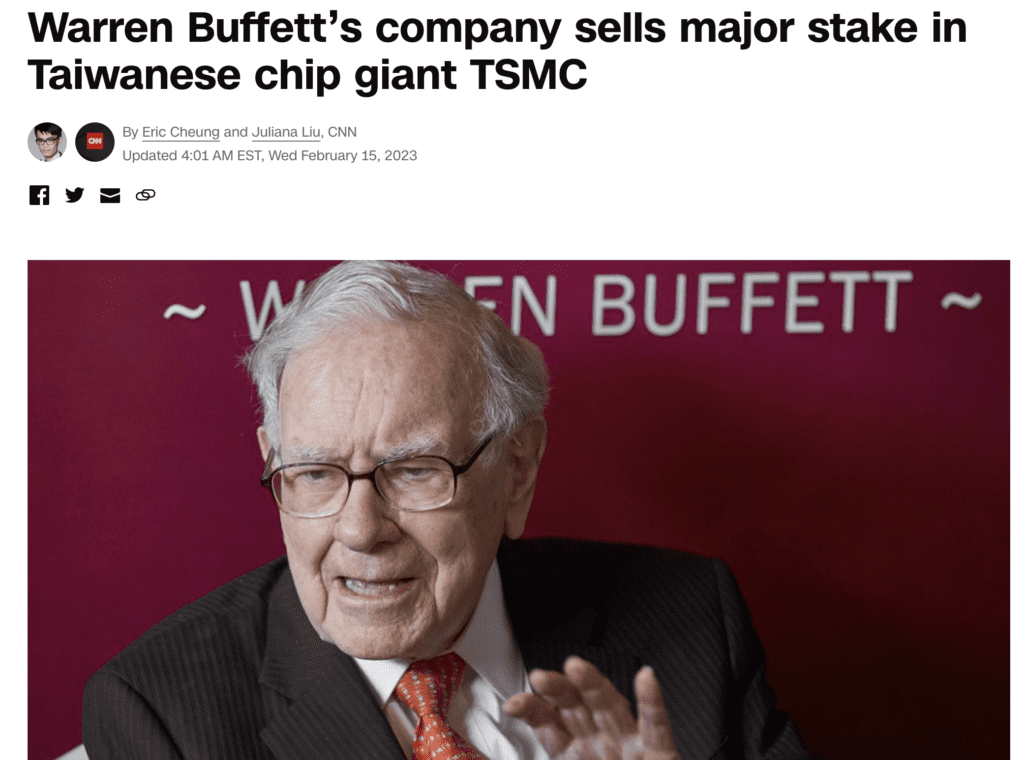 After the massive selling, TSM will only occupy about 0.21% of Berkshire's holding. This unusual quick reversal by Warren Buffett caused TSM's share price to drop over 6% in the past 1 month. If you are a TSMC shareholder, should you be selling right now?
Previously in my telegram channel, I shared about TSMC last year's Dec when I visited its Innovation Museum in Taiwan. At that time, I also shared that Warren Buffett bought a $4 billion stake in TSMC at an average price of $82!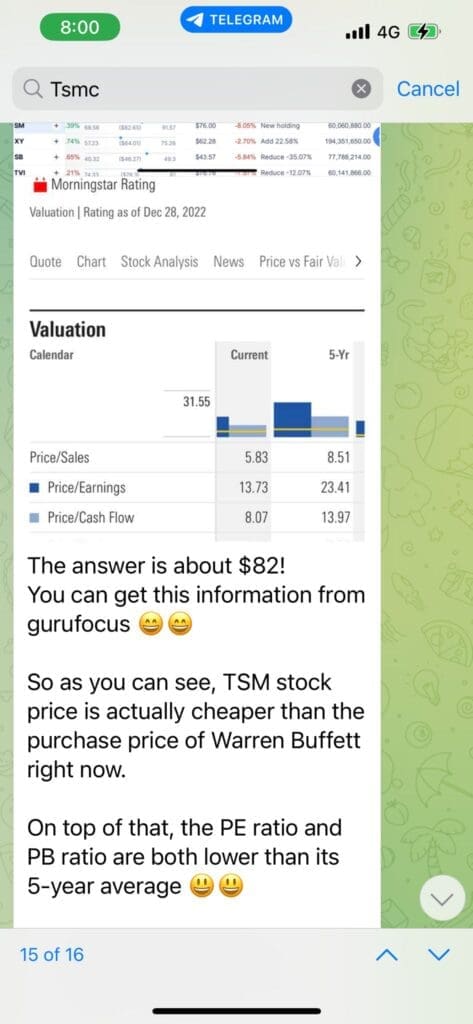 At that time when I shared this in my telegram, the price was actually around $72, which was cheaper than Warren Buffett's purchase price. So if you have taken action back then, you would already see a handsome 23% profits in a short 3 months, even despite the recent drop in share prices!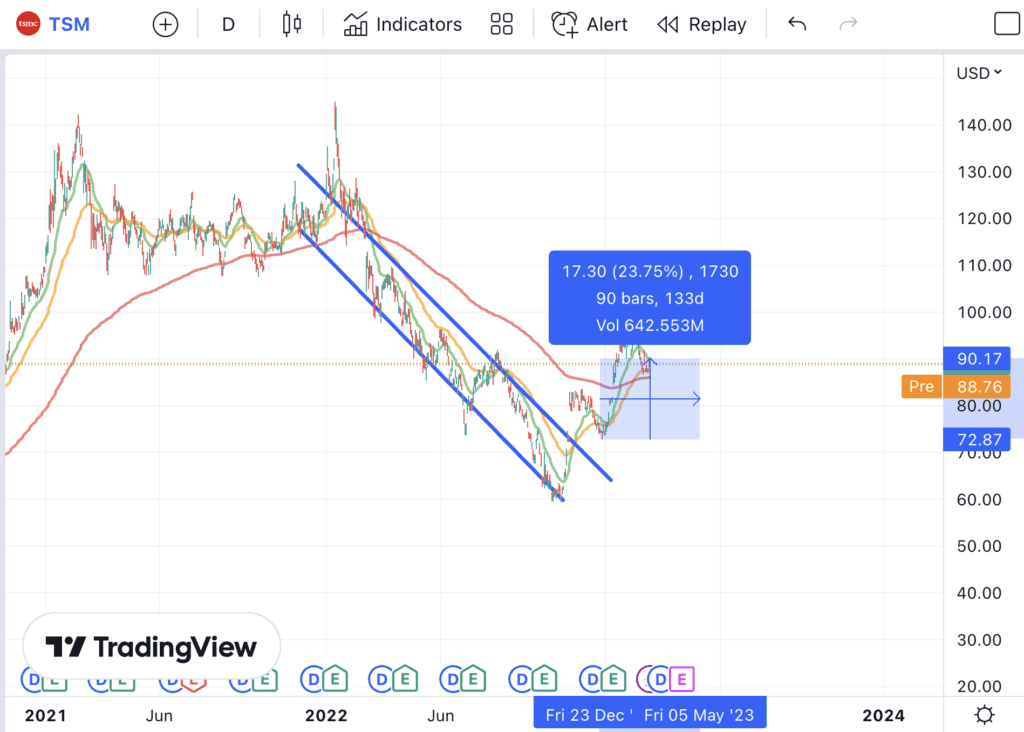 So should you be taking profits off the table now like Warren Buffett, or should you hold on to it longer? Before that, let's go and find out the business model of TSMC!
As one of the world's largest contract chipmakers, TSMC makes integrated circuits for customers based on their proprietary IC designs. They have a reputation for producing high-quality chips that are used in a wide range of devices, from smartphones to cars to medical equipment.
TSMC is known for its advanced manufacturing technology, which allows them to produce chips that are smaller, faster, and more energy-efficient than those made by many of its competitors. That's why TSMC has consistently held the leading position in the foundry market in terms of revenue and market share over the past decade.
According to TrendForce, TSMC held 56% of the foundry market in 2022, which was more than the market share of its top four competitors combined.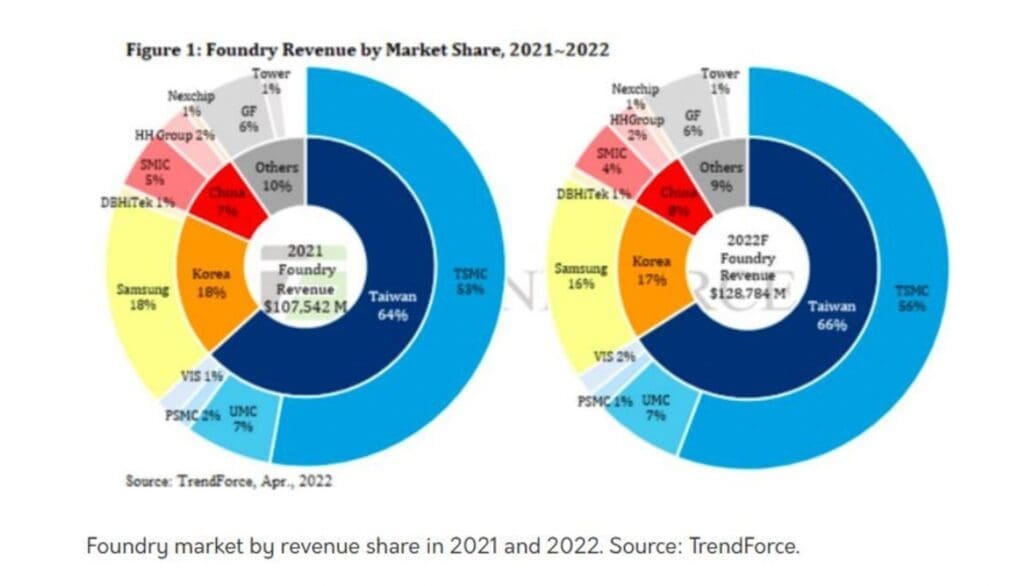 Here's the market share of TSMC and its closest competitors in the foundry market in 2022, according to TrendForce:
TSMC: 56%
GlobalFoundries: 6%
Samsung Foundry: 16%
UMC: 7%
SMIC: 4%
Why did Warren Buffett sell TSMC?
So why did Warren Buffett decide to sell away such a powerful company? In my opinion, one of the possible reasons could be due to the risks involved.
In the first place, the semiconductor industry is very cyclical. The company derives about 39% of its revenue from the smartphone market and 41% from HPC (High-Performance Computing). The industry alternates between shortages and oversupply. Foundries cannot always raise prices during shortages yet have to deal with high fixed costs in all downturns.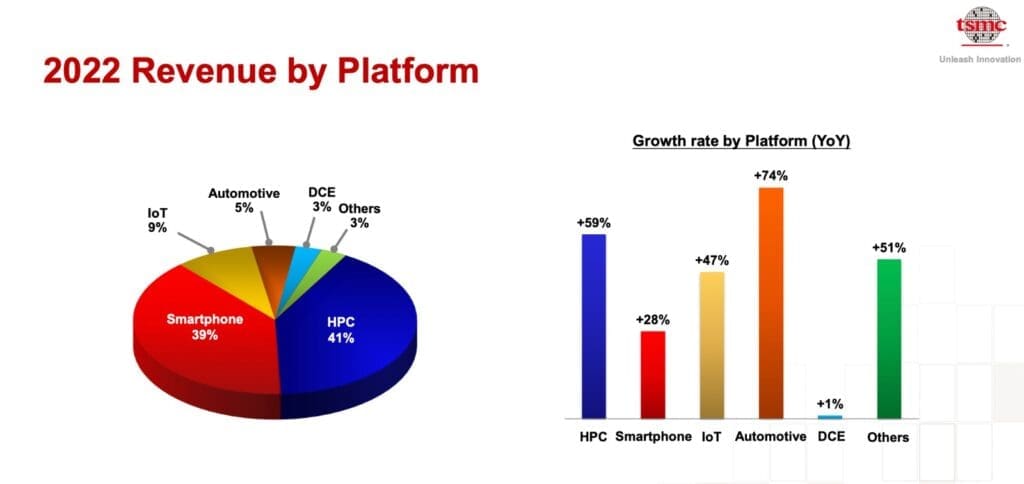 Apart from that, the company faces some major risks, including:
1. Increasing competition
As you can see from the previous chart, TSMC faces competition from a range of other semiconductor manufacturers, including Samsung and Intel, as well as emerging Chinese players.
2. Technological complexity
Semiconductor manufacturing is a complex and rapidly changing field, and TSMC must continually invest in research and development to stay ahead of the curve. But as technology gets more advanced, it's also getting harder and harder to break through. And the R&D will get more expensive, thus squeezing TSM's margin.
3. Geopolitical risks
TSMC is headquartered in Taiwan, which has a complex geopolitical relationship with China, and this could potentially impact its operations or supply chain. Amid US-China political tensions, governments in Washington, Tokyo, and Brussels are all pushing TSMC to help build local production capabilities. This threatens to drive up its costs and thus may impact TSMC's margin.
With all the risks in mind, maybe that caused Warren Buffett to think twice about holding onto a $4b stake. And that could be the reason why he decided to sell away over 80% of TSMC holdings.
But is TSMC really a no-go?
I don't think so!
Although Warren Buffett sold away the majority of his holding, TSMC is still inside his portfolio, occupying about 0.21% of Berkshire's holdings. So this shows that Buffett still believes in this company.

Secondly, TSMC has built a formidable economic moat around its business, which has allowed it to earn above-average profits despite the competition.
Here are some of the economic moat TSM enjoys:
High barrier to entry
Multiple technical barriers and high capital requirements form TSMC's wide moat. Semiconductor manufacturing is extremely capital-intensive. Because of technical hurdles, node advancement has been growing more costly, prompting some smaller players to give up catching up with the industry leaders and other firms to divest.
While there were six companies with cutting-edge nodes when the industry introduced 16/14 nm fabs around 2015, there are currently only two, TSMC and Samsung Electronics, selling 5 nm chips, as smaller peers such as GlobalFoundries and UMC decided not to introduce sub-14 nm processes.
2. Scale and scope advantages
TSMC has economies of scale and scope that give it a cost advantage over its competitors. As the world's largest dedicated semiconductor foundry, TSMC can spread its fixed costs over a larger volume of output, reducing its unit costs.
In the meantime, its superior technology has also enabled the company to charge more. As you can see from the charts below, TSM enjoys a superior Gross Margin of 70% and Operating Margin of 35%, which have been at least twice as high as those of its closest peers for years.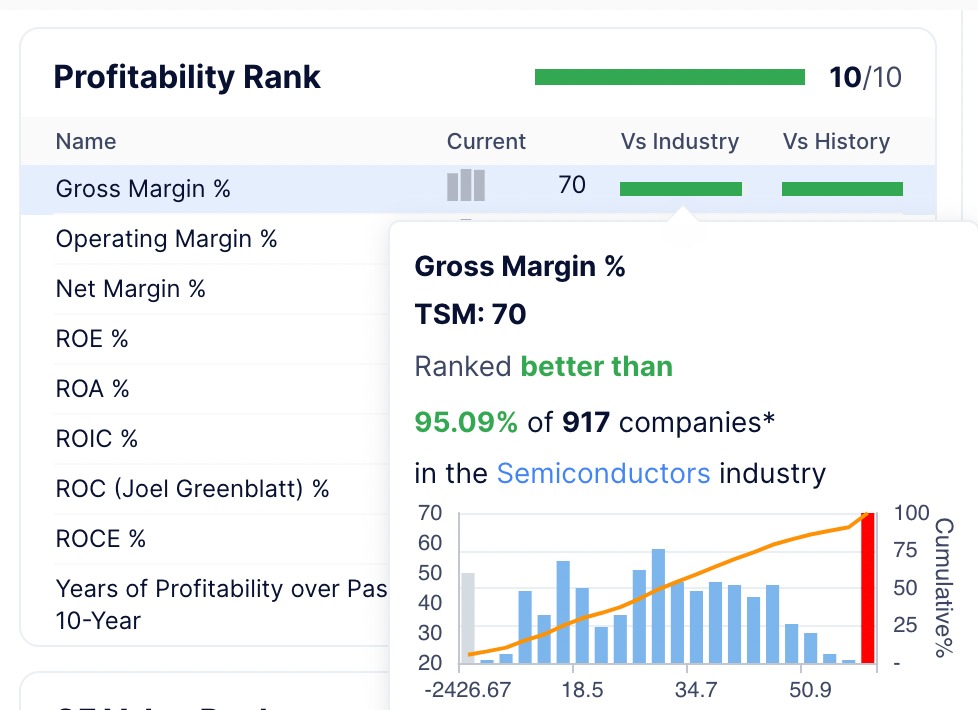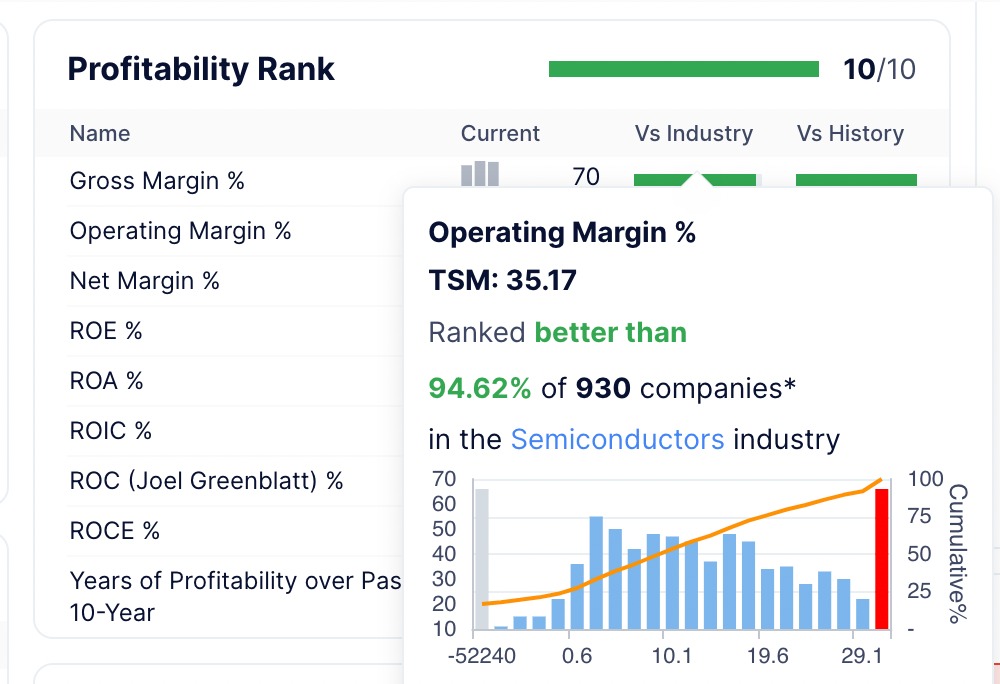 Furthermore, the organic growth of artificial intelligence, the Internet of Things, and high-performance computing applications may last for decades. AI and HPC play a central role in quickly processing human and machine inputs to solve complex problems like autonomous driving and language processing. TSMC will set to benefit even more as the world advances.
All of these factors work together to create a formidable economic moat that has allowed TSMC to dominate the semiconductor foundry market. While other companies have tried to compete with TSMC, none have been able to match its combination of advanced technology, scale, IP, and reputation. As a result, TSMC has been able to earn above-average profits and generate significant shareholder value over the long term.
So is it time to buy TSMC now?
At the stock price of $87, the current PE ratio of TSMC is around 13 times, which is below its 5-yr average of 23.2 times.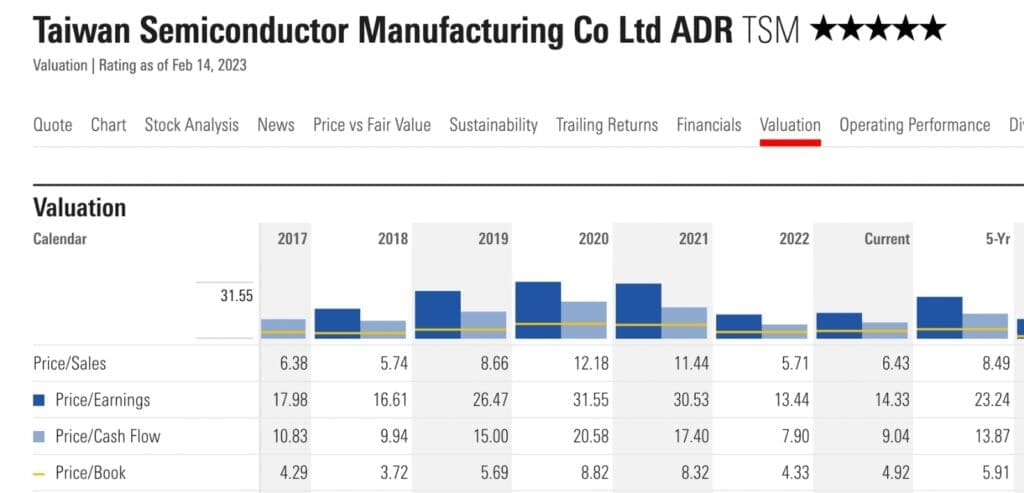 Not to forget, TSM is also a dividend cash cow.
TSMC's stable earnings have helped the company to pay out consistent dividends since 2004. Its dividend growth rate has been impressive over the past 10 years, at an average annual rate of around 13.8%.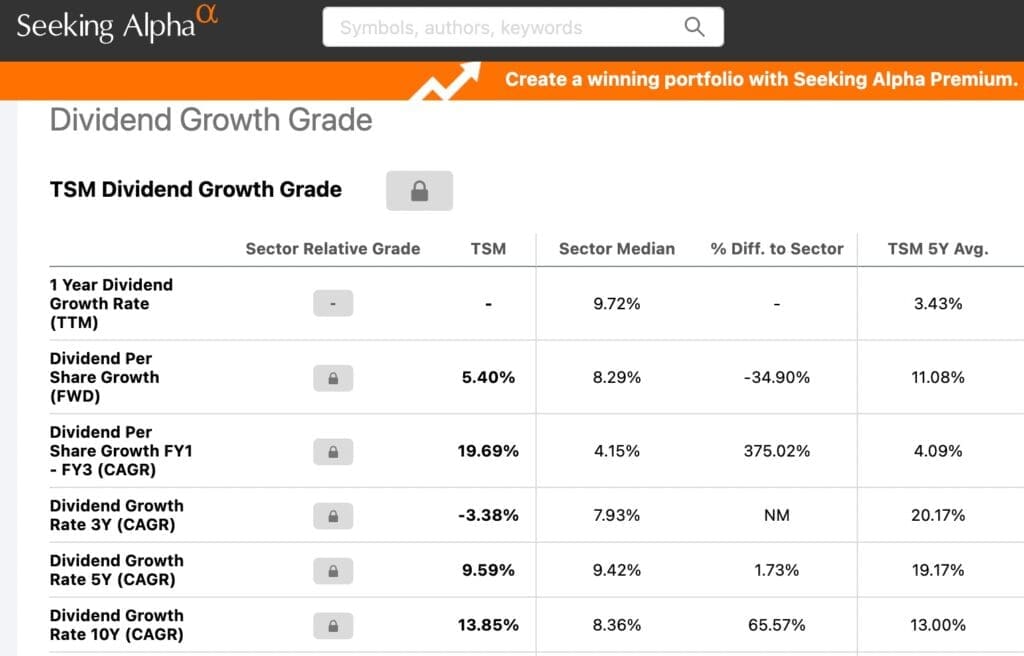 At the current price, you are getting a 2% dividend yield as a shareholder! Pretty attractive isn't it?
If you know how to use options and know what options trading strategies really work, you can even consider using B.O.S.S. Dip Buyer Profit Strategy through options to promise to buy TSM at an even cheaper price. Instead of the current share price of $86, you can promise to buy it even cheaper than the current market price, and in return, you will get 1% in 1 month!
And if you already have a large holding on TSMC, and you don't want to sell them away because you still believe in the future of the company, you can consider using Strategy Y options hedge strategies, to buy protection for your portfolio. So if TSMC does fall more from here, instead of losing money, your portfolio will be protected.
If you are new to options, you can join us in our upcoming Free 2-hr Next Level Options Masterclass to learn how to use different options strategies to profit and protect your portfolio in different market conditions.
Get Free Stocks Up To $500 USD with a $0.01 Deposit! 5000% ROI
If you are new to investing and are wondering what brokerage platform to get started, you can consider using Webull. Regulated by the Monetary Authority of Singapore, Webull is very user-friendly and offers $0 commission for both stocks and options. It's also been given multiple awards including one from Investopedia.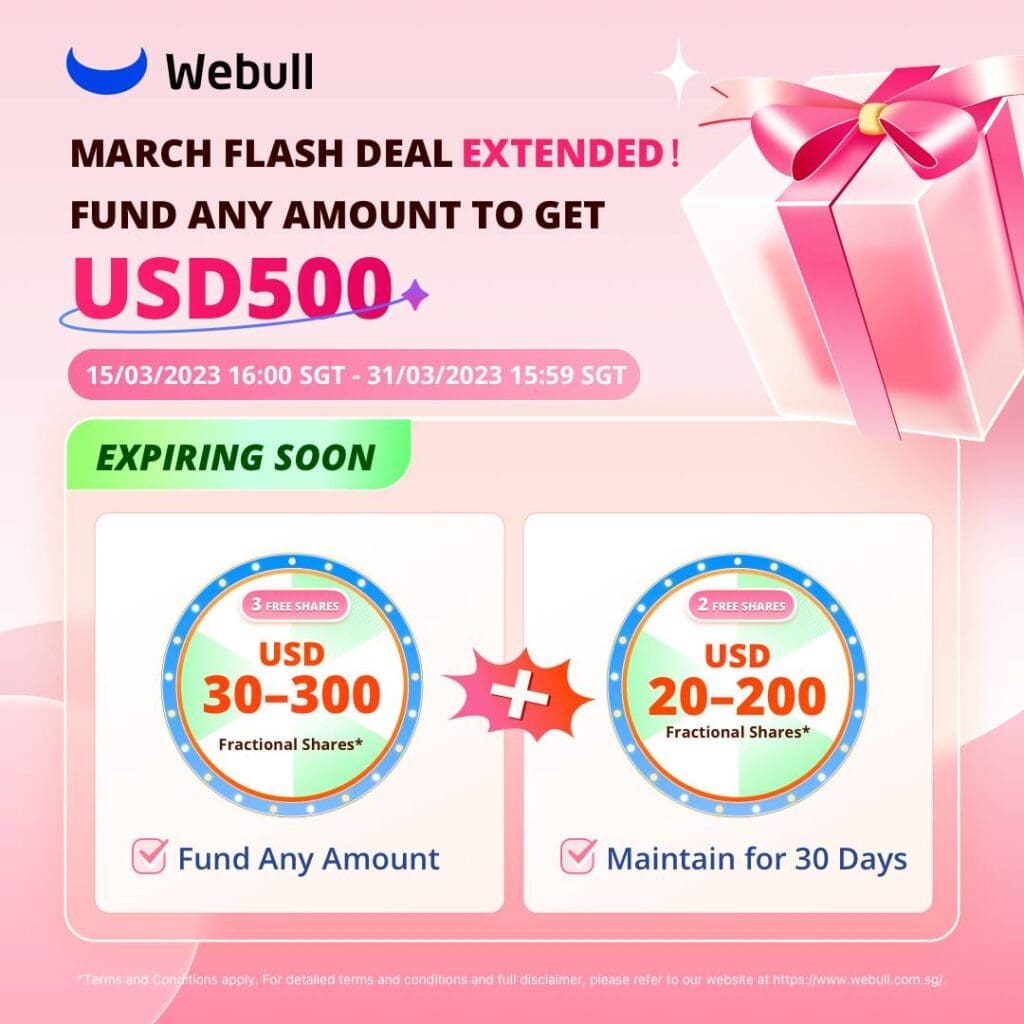 Here's how you can get free stocks worth up to $500 USD!
1) First deposit of any amount, even $0.01 also okay, get 3 spins
2) Maintain your account for 30 days, get 2 spins
1 Lucky Spin will win USD 10-100 of Fractional Shares: TSLA, AAPL, AMZN, GOOG
Total Rewards: 5 Lucky Spins to earn USD 50-500 of Fractional Shares, over 5000% ROI!
Sign up for your Webull and Get Free Shares!
Time to sell TSMC — Conclusion
So in conclusion, instead of selling just because Warren Buffett is selling, investors can use this as a chance to take a deeper look at TSMC! Most importantly, just like my investing mentor Mary Buffett said: "Always invest within your circle of competence. Don't buy things you don't understand."
If you want to get more investing insights, do join my telegram channel for more updates! In the meantime, check out my video here on TSMC!