Alibaba's stock price has suffered significantly in recent years, resulting in a painful 50% loss for shareholders who have held the stock for the past five years. Additionally, investors were shocked by the negative earnings the company is suffering from. These losses have led many to question whether Alibaba has lost its competitive edge. Is it time to sell baba before it gets even lower? Let's find out in this post!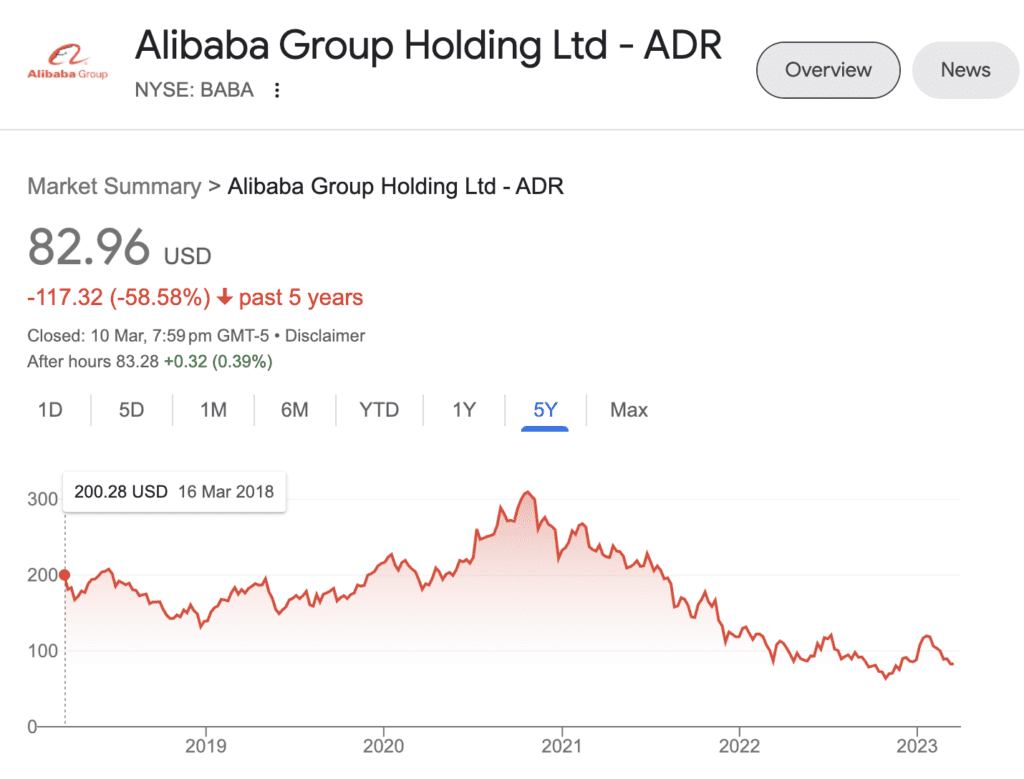 In recent years, investors are increasingly disappointed by Alibaba's performance. The company's earnings have been decreasing significantly since 2021. In fact, in the recent quarter of Sep 2022, Baba is suffering from a $22 billion loss in RMB.

Time To Sell Baba Due To Its Losses?
But before you decide to jump ship and sell away your stocks. Let's take a look at Alibaba closely! Because upon closer inspection, Alibaba is still a highly profitable company. WHAT??!
Its total revenue has grown by 3% year-over-year, reaching $207 billion RMB. Most aspects of the business have seen consistent growth, with the exception of China Commerce, which experienced a 1% drop in revenue. This could be primarily attributed to China's 0-Covid policy, which has severely impacted logistics and the supply chain. But with China's borders reopening, this situation is set to improve.

Regarding its losses, Alibaba attributed the shift from profit to loss to "an increase in net losses resulting from the decline in market prices of [its] equity investments in publicly-traded companies and a reduction in the share of results of equity method investees."
The substantial drop in valuation was mainly linked to its controversial financial unit, Ant Financial.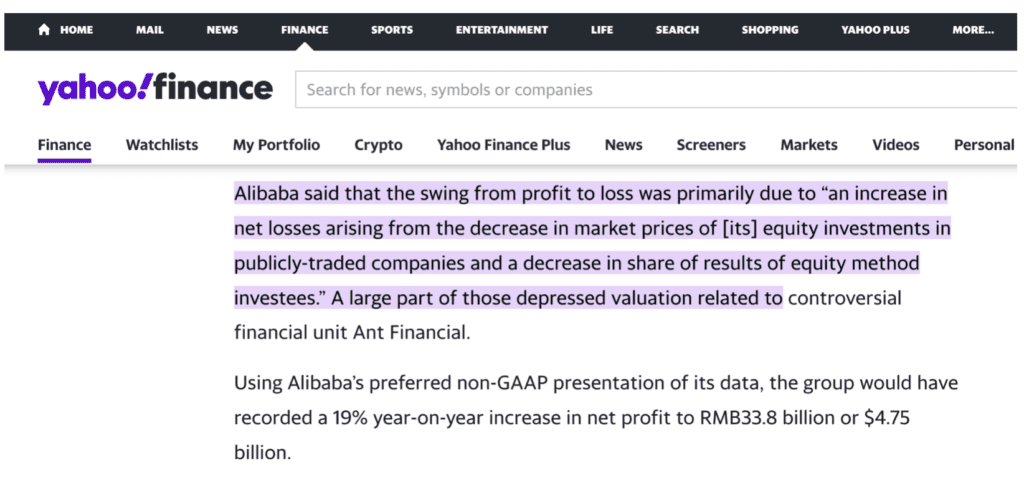 So if you disregard the investment losses, and look at Alibaba's preferred non-GAAP reporting method, the company would have achieved a 19% year-on-year growth in net profit, totaling $33.8 billion RMB or $4.75 billion.
In fact, in its most recent quarter ended on 31st Dec 2022, Baba has once again turned profitable, with a Net Income of $45 billion RMB.

Not The Time To Sell Baba — Cloud
Apart from having a profitable e-commerce business, Alibaba also has another growth engine — Cloud.
China has made significant progress in transitioning to cloud computing and now possesses the world's second-largest market, behind the United States. It is projected that China's public cloud will grow at a staggering pace in the upcoming years, more than doubling from $32 billion in 2021 to $90 billion by 2025.

Currently, Alibaba holds a 36% market share in the Chinese cloud industry, with 8% of its total revenues stemming from this sector.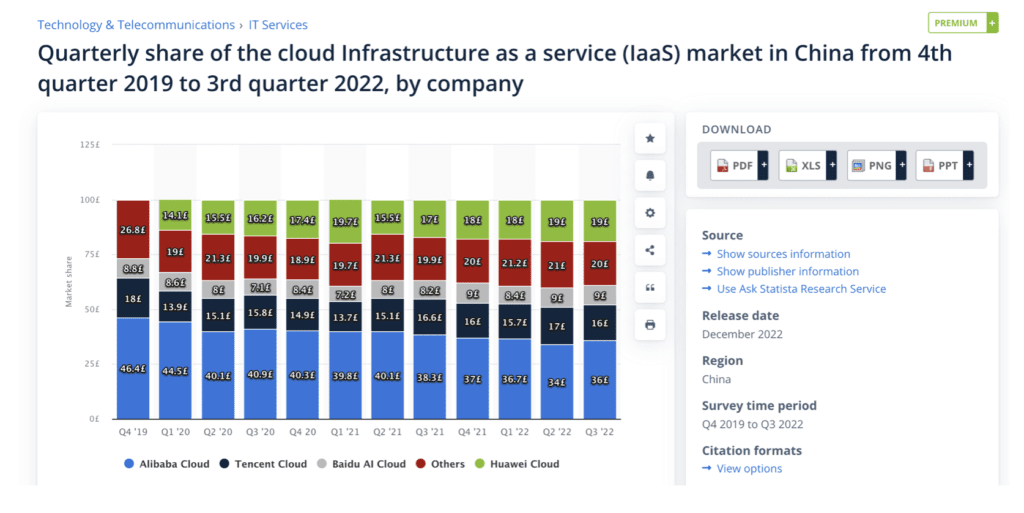 The cloud industry represents a lucrative domestic growth opportunity that has the potential to boost both the top lines and bottom lines of Alibaba's business.
Not The Time To Sell Baba Despite Rising Competition
But I know, you must be thinking: "Alibaba has so many competitors. What if it gets overtaken by others?"
It's indeed a valid concern. But we can't deny that Alibaba's competitive advantage is enormous. Almost every eligible Chinese individual is an annual active consumer of an Alibaba product, and 60% of all online spending in China occurs on an Alibaba platform.
While AliCloud is currently operating at a breakeven point, it is anticipated that the company will generate substantial profits as it scales, much like Amazon's AWS.
Despite the competition, Alibaba has achieved over 90% retention for its core annual active consumers, who are between 25 and 44 years old, and accounted for 70% of gross merchandise volume for the year ending in September 2021.
Additionally, BABA owns one-third of Alipay, which is responsible for 54% of all payments in China.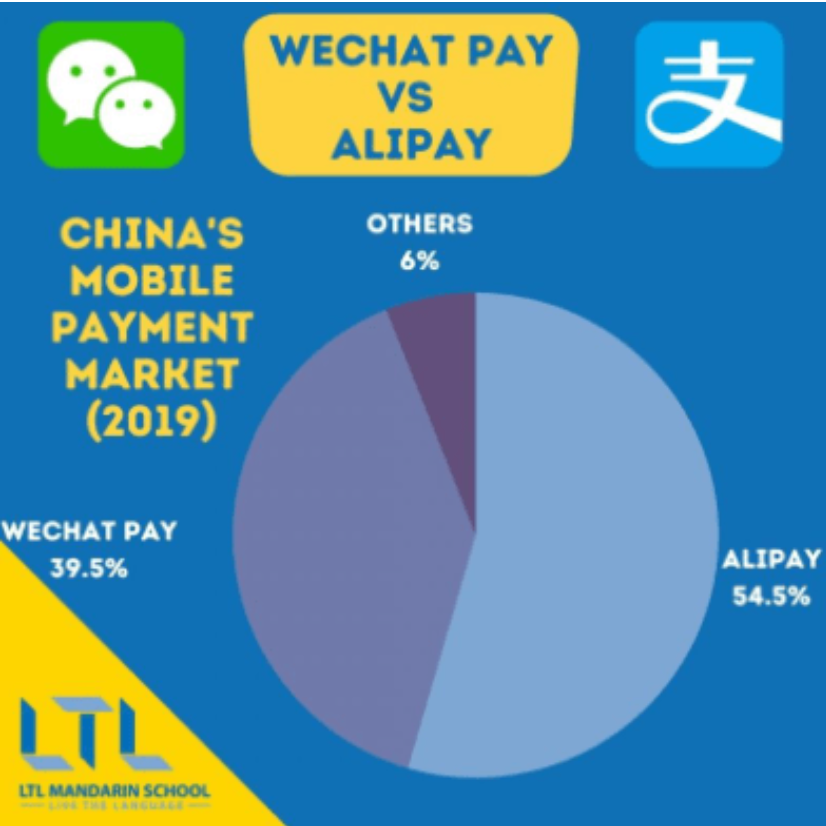 Competitors such as JD.com in e-commerce, Huawei in cloud computing, and Tencent's WeChatPay are all striving to catch up. It's worth noting that none of them operates in all three areas, while BABA is the leading player in each. In the Chinese technology sector, Alibaba is in a class of its own.
Not The Time To Sell Baba — So Time To Buy?
Due to the recent drop in Net Income, BABA's PE ratio of 48 times seems to be too high. However, this won't be an accurate representation of Baba's true earnings capacity and valuation, as the earnings have been distorted due to investment losses, as explained previously.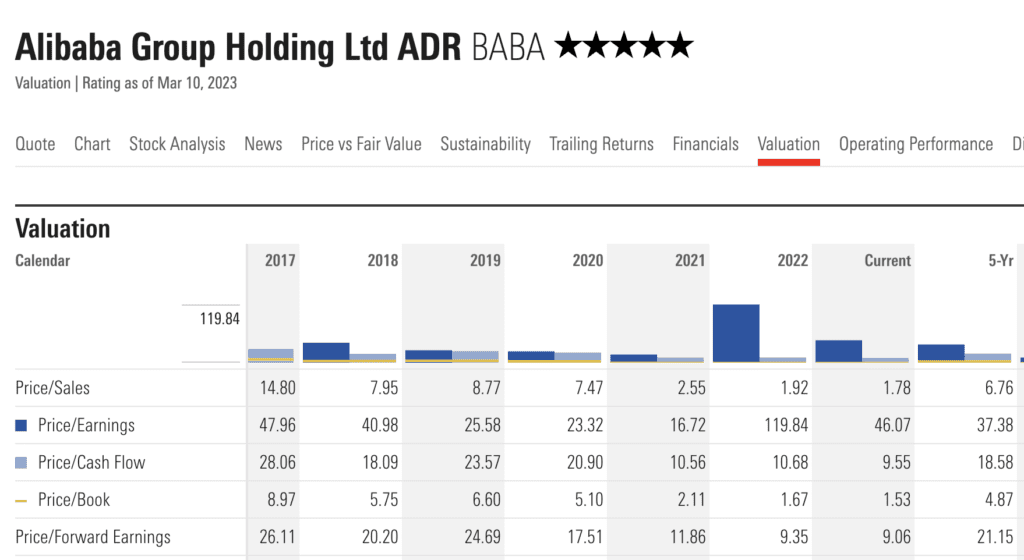 If earnings can't be relied on, we can use ratios like P/B and Price/Forward Earnings as a good gauge. Right now, both ratio is significantly lower than their 5-Yr Average, which could mean BABA is presenting a good value for entry.
Another great way of putting BABA's valuation into perspective will be by looking at the company's stock price since its IPO.
In 2014, Alibaba closed at $92.70 a share during IPO day. And close to 10 years of growth, right now the stock is trading at $82 per share. It literally means that we can buy it cheaper than IPO prices except with 15x the revenue, 5x the EBITDA, 4.5x the free cash flow, and 3.5x the operating income.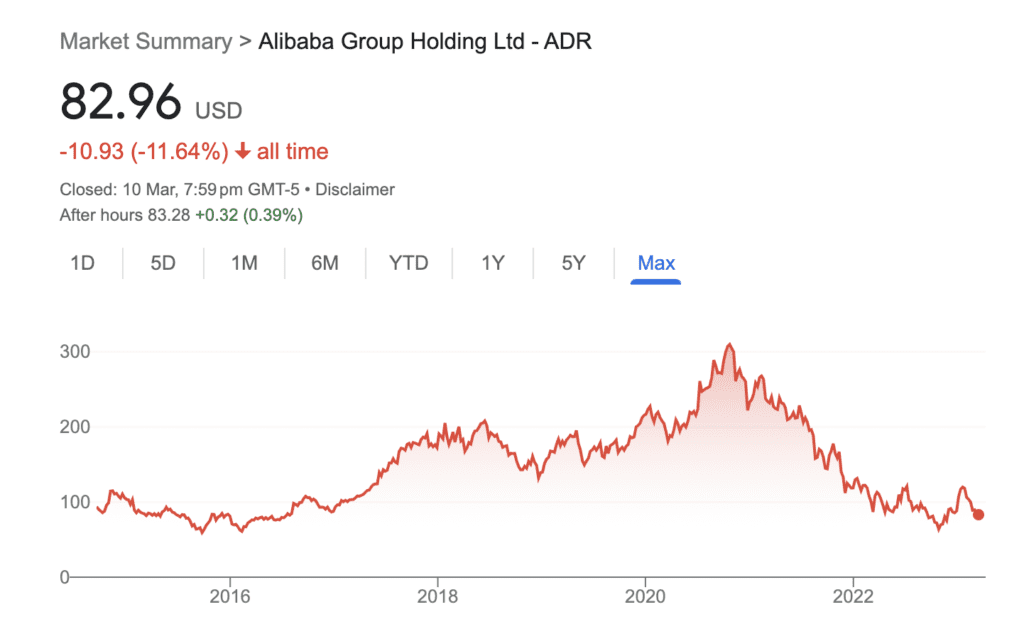 In all aspects, BABA looks like a steal for me.
Time To Sell Baba Using Options?
And if you want to buy it even cheaper than its market price, eg instead of buying it at $82, you want to buy it at $80. Instead of waiting for the stock price to drop, which may or may not happen, you can sell options using the B.O.S.S. options strategy to collect passive income, while promising to buy Alibaba at the stock price that you want.
In return, you will get about $100 in passive income. That's 5% in 20 days!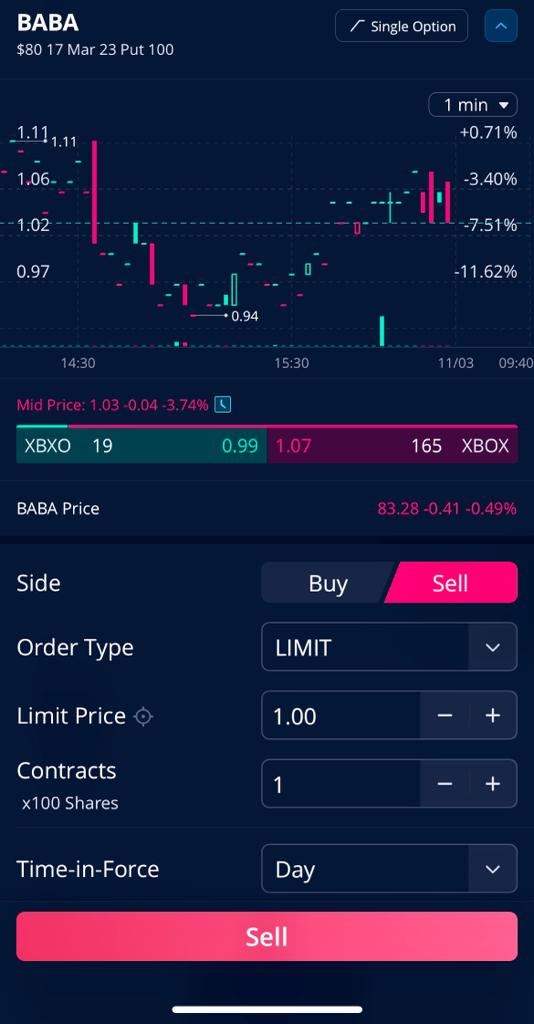 On the other hand, if you are already an existing shareholder of baba and you are afraid that it may drop even more, but you don't want to sell away your stocks because you still believe in this company, you can use one of the options hedge strategies Strategy Y to buy insurance protection for your portfolio! So even if Baba drops more from here, your insurance will give you an income boost!
There are different options strategy that can suit your investment objectives! If you want to learn what options trading is and more about how you can use options to profit and even protect your portfolio, do join us in our upcoming Free 2-hr Options Masterclass to learn more!
Get Free Stocks Up To $500 USD with a $0.01 Deposit! 5000% ROI
If you are new to investing and are wondering what brokerage platform to get started, you can consider using Webull. Regulated by the Monetary Authority of Singapore, Webull is very user-friendly and offers $0 commission for both stocks and options. It's also been given multiple awards including one from Investopedia.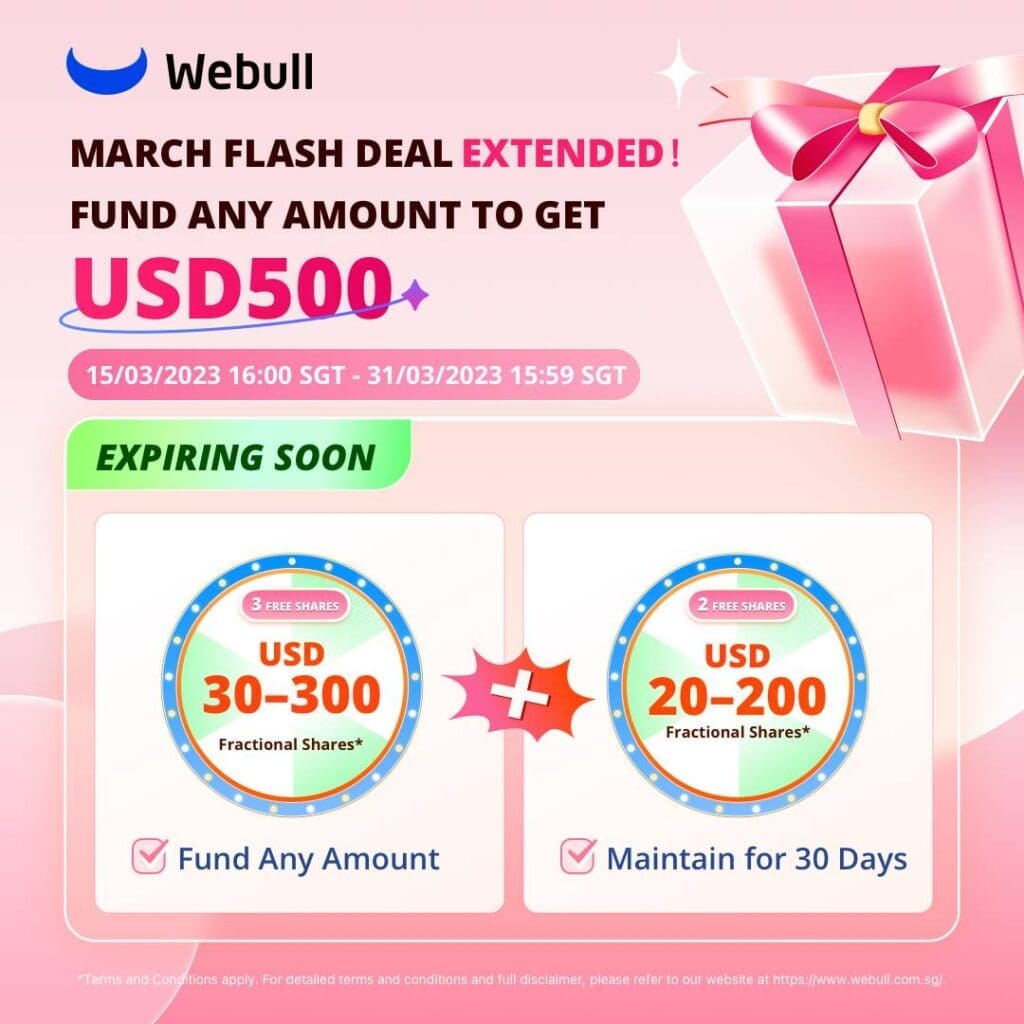 Here's how you can get free stocks worth up to $500 USD!
1) First deposit of any amount, even $0.01 also okay, get 3 spins
2) Maintain your account for 30 days, get 2 spins
1 Lucky Spin will win USD 10-100 of Fractional Shares: TSLA, AAPL, AMZN, GOOG
Total Rewards: 5 Lucky Spins to earn USD 50-500 of Fractional Shares
Sign up for your Webull and Get Free Shares!
In the meantime, you can also join my telegram channel to get more investment updates. You can also watch my video to understand more about Alibaba!